6 tips to keep your hair and scalp healthy and happy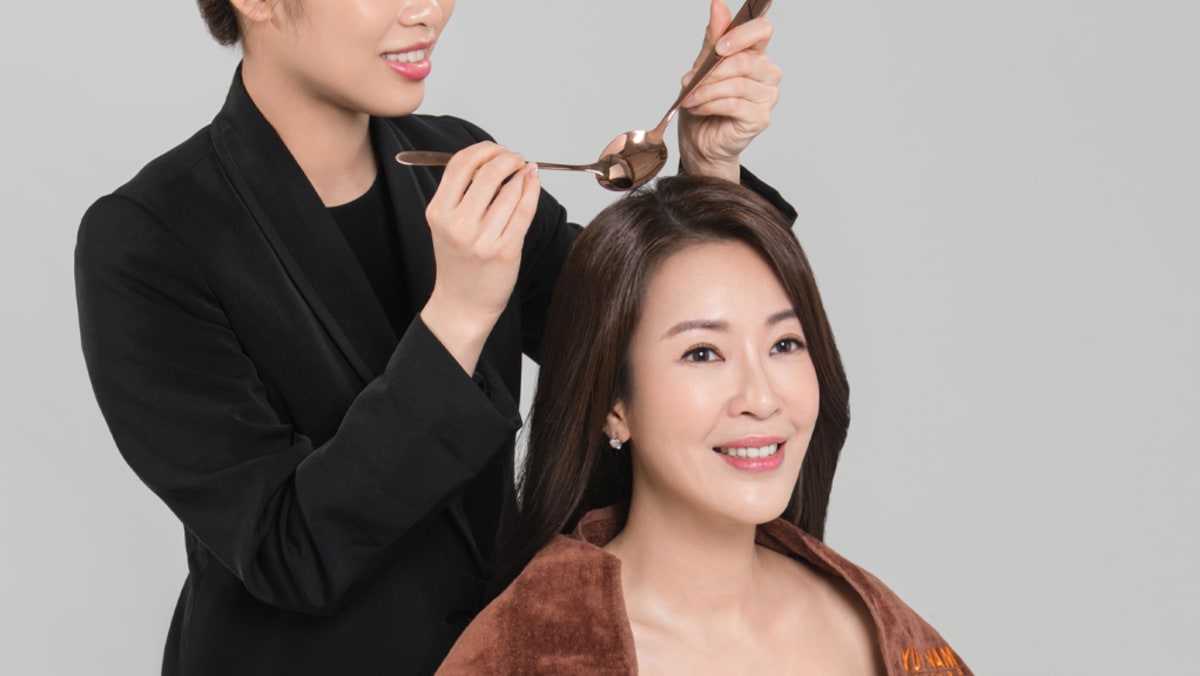 "I eventually developed an oily scalp which caused hair loss," he said. "At first, I didn't pay much attention to it, but as I filmed drama 118, more and more people noticed that my hair condition was getting worse. My hair was getting thinner and my hair was receding.
According to Lee, stress can lead to reduced nutrient supply to hair and increased production of free radicals. This results in a shortened hair cycle and increased hair loss.
Taking the time to pamper yourself can make a big difference to your stress levels — and your hair, as Liu discovered. Regular appointments at Yun Nam Hair Care are an essential part of her personal care routine. "Each visit is an opportunity for me to decompress and take a breather from my hectic life. The treatment process is very relaxing and my scalp is always clean and refreshed after the treatment. My hair is also softer and stronger ", she said.
TIP #3: PROTECT YOUR SCALP LIKE YOU PROTECT YOUR SKIN
Just like how you protect your skin with sunscreen, you need to do the same for your hair and scalp.
There are plenty of sunscreen products for the scalp and hair that come in the form of mists, oils, and serums, so if you love the beach, be sure to incorporate them into your routine. If you plan to be in the sun all day, use a hat with UV protection if possible.
TIP #4: PAY ATTENTION TO YOUR SCALP
How you wash your hair matters, advised Lee, who pointed out that lathering your hair with shampoo without also cleaning your scalp will lead to a buildup of dead skin, oil and dust. When this happens, you may experience an itchy scalp which can be accompanied by dandruff, acne and increased hair loss.
"The scalp and hair share a close relationship because hair follicles are found in the epidermis and dermis of the skin," he explained. "Simply put, a healthy scalp equals healthy hair."
He added that an unhealthy scalp is linked to inflammatory skin conditions such as eczema, seborrheic dermatitis and folliculitis. "The inflammation, coupled with accelerated skin shedding and scratching, can damage hair follicles, shorten hair growth, and increase hair loss."
TIP #5: GET HELP FROM HERBS
If you want a natural, safe, and chemical-free solution to healthy hair, Lee recommends turning to a qualified hair consultant for advice.
He said: "A hair consultant should determine the condition and cause before formulating a personalized treatment plan. At Yun Nam, we use a variety of herbs, the three main ones being ginseng, angelica and polygonum. For example, ginseng is recommended for someone with a dry scalp and hair loss attributed to a weak constitution or poor diet, but not for someone with an oily scalp and hair loss due to diet. high in fat or sugar.
For those who are not fans of the bitter taste of traditional Chinese herbs, there is no need to hold your nose and swallow concoctions. Topical application of Yun Nam Hair Care ensures that clients not only avoid the unpleasant taste, but also minimizes the risk of systemic drug interactions when clients are taking medication for other conditions.
TIP #6: DON'T WAIT UNTIL IT'S TOO LATE TO ASK FOR HELP
If you notice hair loss, thinning, or other issues, it's best to seek treatment before the problem gets worse.
"We have a limited number of hair cycles per lifetime. Seek help early when the follicles are still viable and when the regenerative abilities of the skin and hair tissue are still at their peak," Lee advised.
If you want help with your hair but are worried about committing to a treatment program, look for an established provider that offers trial treatments and has good reviews.
"Do some research on the company – find out how long it's been around, what awards it's won, and what customers are saying," Lee said. "Yun Nam's trial treatment also provides potential customers with a great opportunity to experience the outlet environment and the treatment itself."
Yun Nam Hair Care is currently offering a S$28 trial for its FASTGro Hair Care treatment, which uses Chinese herbs to stimulate and nourish hair follicles to restore scalp health and stimulate hair growth. The trial price includes a computerized hair follicle scan and analysis that helps identify the root cause of hair and scalp problems.
Contact Yun Nam Hair Care for a trial session of FASTGro at S$28 (regular price S$300) and get a free hair care kit (worth S$88), exclusive to CNA readers. This promotion is only for new customers aged 18 and over. Terms and conditions of application.