Want straight, silky locks? Try Japanese straightening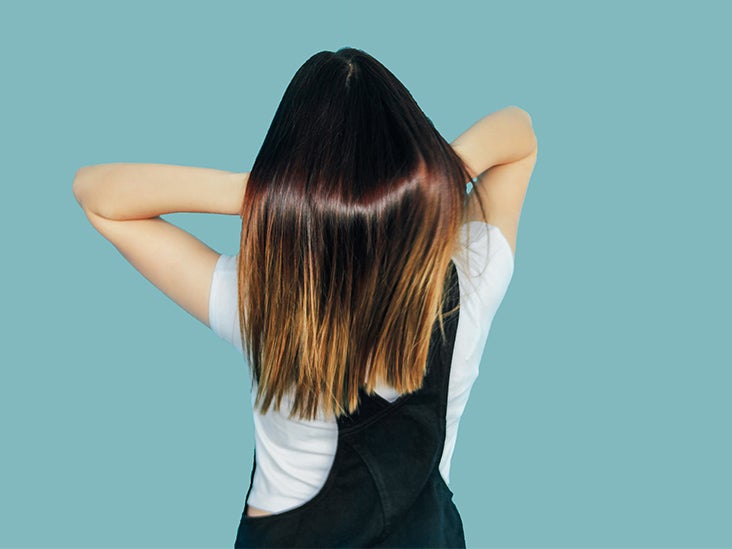 Straight hair comes in and goes out of style. But for some people, there is nothing quite like the feeling of flipping a long, sleek strand of hair over the shoulder or the appearance of a shiny, perfectly straight ponytail.
If you have unruly hair, unmanageable frizz, or loose waves, you can spend half an hour every morning straightening your hair.
What if it was possible to wake up with straight hair every day?
With the Japanese hair straightening technique, you might be able to do just that.
Japanese straightening, also known as thermal reconditioning, is a hair treatment that leaves your strands perfectly smooth and ripple-free for 6 months or more.
Neil moodie, one of the UK's top hairdressers, claims the treatment uses a cysteine-based chemical solution to break the bonds and reconfigure the natural hair structure from the inside out.
The process dates back to the 1990s, when the Japanese hairdressing expert Yuko yamashita patented method. Since then, it has become a popular method for treating all types of wavy, curly, frizzy, or generally unruly hair around the world.
According to the team of Jeju Hair in London, "It's been popular in countries like Japan and South Korea for over 20 years. It is also now popular in many other countries. We have clients who travel from all over the UK and overseas to have [this treatment] with us."
If you've done some research on permanent and semi-permanent straightening treatments before, you may have come across other names for Japanese straightening.
Getting any type of permanent treatment can seem a bit daunting at first, so it's always important to fully understand the process.
With Japanese straightening, a chemical solution containing cysteine ​​is used to "permanently change the structure of the hair," explains Moodie.
As with any treatment, it is important that you take good care of your hair after treatment to ensure you get the best results and do not damage your hair.
Within the first 72 hours
In the first 3 days after receiving your treatment, your hair will need special care.
For 3 days, keep your hair completely dry.
Avoid showers, rain or even sweating.
Avoid hair products such as oils, gels, or dry shampoos.
Try to keep your hair as straight as possible by letting it fall down and keeping it away from the ears.
After 72 hours
After the first 3 days, the treatment should take and for the most part you will be able to return to your normal hair routine.
Some exceptions include:
Avoid chlorinated water for a few weeks.
Avoid exposing yourself too much to the sun.
Avoid sulfur-based shampoos. If possible, use products designed for chemically straightened hair.
Check with your hair specialist which hair products are best to use.
Still have questions ? We have what you need.
How long does it take?
The procedure will likely take around 1 to 1.5 hours. The initial consultation and strand test will also take around an hour.
How long does it last?
The procedure is permanent, but as your hair grows, the roots will need to be touched up.
Eventually, you will be able to grow all of your slicked back hair. Alternatively, you can go for a touch-up about every 6 months to maintain the look.
How much does it cost?
Most salons will charge between $ 400 and $ 800 for a single treatment.
How do you sleep on it?
In the first days after treatment, it is important to keep the hair as straight as possible.
To avoid getting knots in your hair after the procedure, keep your hair tied up overnight instead of tying it up.
Try lying on your back with your hair spread out on the pillow under your head.
Is it bad for your hair?
While the mention of chemicals might sound a bit scary, Japanese straightening is generally safe for most people when done correctly.
In the long run, it can even improve the health of the hair, as you will likely use less heat styling products.
Yet there are always risks when using intensive chemical treatments. For some people, straightening can be even more risky.
For example, if you have ever had chemical treatments or if your hair has been colored, you are more likely to suffer damage from Japanese straightening.
After doing the treatment more than twice, it is not recommended to resume it.
As stylist Ted Gibson said NY Mag, "In some cases the hair was melted. [Clients] ended up with fried heels.
According to a 2015 study, restructuring the hair with a chemical solution fundamentally changes the chemistry of your hair. It can cause damage.
It is important to consult your hairdresser about the treatment and to think carefully before you start.
Can you use hair ties, pins or clips?
After the initial follow-up period, which usually lasts around 3 days, you can use any type of hair accessory.
However, for long lasting results, try using soft, soft accessories that don't cause hard knots in the hair.
What happens after the first wash?
Most stylists do not recommend washing your hair for up to 3 days after treatment.
After your first wash, your hair should be smooth after being blow-dried or air-dried.
Where to do it?
It is important to find a reputable and licensed salon.
In general, it's probably a good idea to start your search for the perfect salon in the big cities. Many experienced hairdressers tend to turn to more expensive and well-known salons in larger metropolitan areas, although this is not always the case.
Be sure to check out reviews and testimonials and, if possible, before and after photos. And don't forget to do a wick test first!
Can you do it at home?
No, only trained professionals with the right tools and skills are able to perform the treatment.
Can you cancel it?
Japanese hair straightening is a permanent process, so no, you cannot undo the procedure.
Once you chemically straighten the hair, the hair structure itself is permanently changed. The only way to get your old texture and shape back is to grow hair out.
How to cultivate it?
Unfortunately, if you're not happy with the results, then wait is the rule of the game.
It may take a year or two for your hair to fully grow. Keep making regular cuts to help your hair grow faster.
A "relaxer" is another permanent hair straightening treatment. Like a Japanese treatment, a relaxer works by modifying the internal structure of the hair.
The process involves using a relaxing formula, which usually contains sodium. This treatment is generally recommended for people with extremely frizzy hair, while the Japanese treatment is recommended for those with softer curls or waves.
Keratin treatment, also called Brazilian blowout, is a semi-permanent hair straightening treatment.
Unlike Japanese hair treatment, keratin treatments do not alter the internal bonds of the hair. Instead, they straighten the hair from the outside.
This treatment only lasts about 2 to 4 months. It is also slightly less effective, as it does not affect the hair from the inside out.
While a Japanese straightening treatment will leave you with ultra-smooth hair, a keratin treatment will reduce frizz and slightly straighten curly or wavy hair.
Re-bonding the hair is also known as chemical straightening. It is similar to Japanese straightening in that it breaks the bonds of the hair.
One of the main differences is that it typically uses chemicals such as:
formaldehyde
aldehyde
methylene glycol
methanal
A big 2019 study found that those who received chemical smoothing every 5 to 8 weeks were more likely to develop breast cancer.
The study also noted that formaldehyde is a known carcinogen, which means it is able to cause cancer in living tissue.
With consultation and an experienced stylist, Japanese straightening should be safe.
However, if the wrong candidates are given the treatment or if an inexperienced hairstylist does the treatment, things can go wrong.
As a stylist from Jeju Hair explains, "The main risk is damaging or breaking the hair if the stylist is inexperienced and leaves the chemicals on the hair for too long. The stylist should be able to judge when the chemical has been used long enough to be effective – very thick or curly hair may take longer – but also when it needs to be rinsed before damaging the hair.
For the record, some people are very attached to Japanese straightening.
A member of Wedding bee forum wrote: "DO NOT get the Japanese hair straightening method. It fried my hair. 3 years later and it's just starting to recover. What a nightmare. "
Writer Zainab Damji had a bad experience when his hair became extremely sensitive.
"Coloring it or applying any kind of heat will literally make it crisp," Damji wrote in Grazia. "I know from experience. My hair was horrible. Not only was it falling, but I had split ends faster than ever, forcing myself to cut everything. Goodbye long, luscious hair.
Of course, this is not the case for everyone.
To avoid any unwanted results, be sure to follow best practices if you choose to use this treatment.
Japanese straightening can be a great option for some people who want to manage their frizzy or curly hair.
However, the procedure involves strong chemicals, so be sure to do your research and prepare for a careful aftercare before you dive in.
Make sure you find a reputable and experienced professional to provide the treatment and follow the procedures closely.
---
Meg Walters is a London-based writer and actress. She is interested in exploring topics such as fitness, meditation and healthy lifestyles in her writing. In her spare time, she enjoys reading, doing yoga and having an occasional glass of wine.